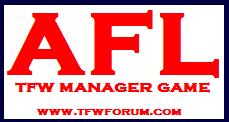 Players/Teams
Teal Devils
- Carlton
Big Kitty
- Essendon
Stoke
- Adelaide
Snappy
- Fremantle
DaneSwan#36
- Geelong
T4P
- Melbourne
Beckham
- Richmond
SMASH
- West Coast
TGBY
- Western Bulldogs
Panthers
- Port Adelaide
Neil21
- Brisbane
Hotdogs
- Collingwood
Cronk'sArmy
- St. Kilda
Shooter
- Hawthorn
Seaeagles09
- Sydney
Cynic
- Nth Melbourne
Submitting your team.
Teams not entered on time will be penalised.
This will be the penalty to your score if not submitted
After 10 minutes - 10% of total score
The following day - 25% of total score
The day after - 50% of total score
After all games - 100% of total score
Teams must be realistic
Darren Glass or Brendon Fevola can not be lined up at Wing
Name a Captain and a Vice-Captain. Your Captain will earn you double points.
When naming your team include the players initial.
Eg. R Hargrave - D Merrett - J Patfull
When naming your team, include your ins and outs from the week before.
Points System
SC points will be the system
The scoring system goes like this:
Stat Description Points Awarded/Deducted
Effective kick 4 Points
Ineffective kick 0 Points
Clanger kick -8 Points
Handball effective 2 Points
Ineffective handball 0 Points
Handball clanger -6 Points
Handball receive 1 Point
Hardball get 4 Points
Loose-ball get 4 Points
Goal 8 Points
Behind 1 Point
Mark uncontested (maintaining possession) 1 Point
Mark contested (maintaining possession) 6 Points
Mark uncontested (from opposition) 4 Points
Mark contested (from opposition) 8 Points
Tackles 4 Points
Free kick for 4 Points
Free kick against -6 Points
Hitout to Advantage 3 Points
End of season finals
Just like in the AFL, at the end of our season teams will fight it out in the finals.
AFL Manager Game has both a top 8 series ONLY.
This finals series will happen in rounds 19-22
The National Draft
Team Lists must consist of a maximum 35 Players excluding rookies before teams are able to participate in this draft.
Coaches will get to make our own draft selections for the entire draft.
Coaches have a 24 hr limit to make your draft, if you don't make you selection you miss out, bad luck. You will be skipped.
Three players must be picked up, there is no limit in how many you pick up.
Delisted players cannot be picked.
5. The Pre-Season Draft & Rookie Draft
Don't have to take part in this draft.
The same picks you have in the National Draft before you traded, ie. Carlton have #1, Richmond have #2 etc.
Delisted players or players that have not be drafted in previous drafts may be drafted.
There will be a 24 hr limit on each pick as in the National Draft
At the conclusion of the PSD a Rookie Draft will follow these will include all the players that nominated for the National Draft but missed out. A list of players will be provided closer to the date.
Delisted players in real life will be delisted and not be in the game.
Finalising a Team
Delisted players must be entered before the National draft starts
Bear this in mind when trading!
Coach sackings may happen if neccessary.